Next Community Call 2023-04-05
Next call will be on Wednesday, April 5th, at 12 PM PST
Join the call
Join using the Microsoft Teams app
Or click here to browse the list of available dial-in numbers to find one that is local to your region
Conference ID: 503 431 76#
Agenda
"nxtools and DSC v3" presented by Jodi Boone, Julia Wang, Brandon Poe, and Steve Lee.
Come learn about nxtools and DSC v3: tune in for Wednesday's DSC community call, where Azure Automanage Machine Configuration PMs Jodi, Julia and Brandon will join head of PowerShell Steve Lee to share exciting new machine config features and releases. Expect an overview and demo for nxtools (now open source!) and DSC v3, cool updates, and time for Q&A. You don't want to miss it!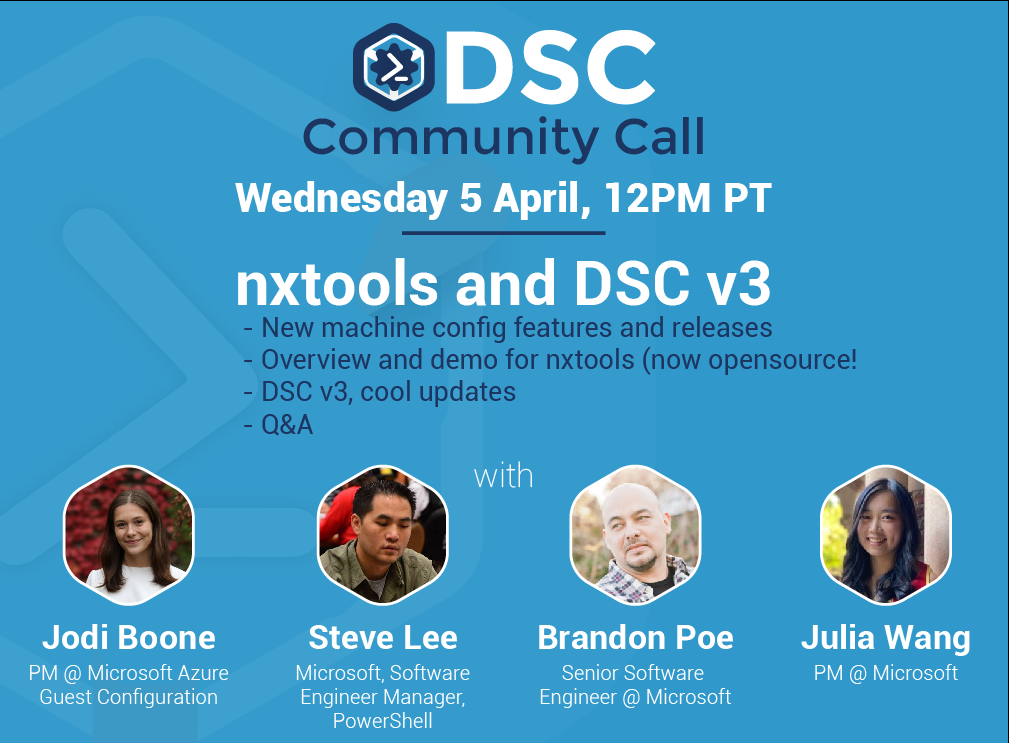 Submit your questions, or raise them directly in the call.
Want to submit a question to discuss during the call so others can prepare? Just submit a Pull request to this file!
Discussions
We are also available on the Virtual PowerShell User Group #DSC channel. For information on how to join, see https://dsccommunity.org/community/contact/
DSC resource modules that have been released recently
Releases

SqlServerDsc v16.1.0 - A big amount of changes, see change log. SQL Server 2022 support. Public commands for SQL Server install actions in preparation for new class-based resources.

Preview

SqlServerDsc v16.2.0-preview0007 - Better handling of loading dependent module (SqlServer). Various enhancements and bug fixes, most notable is better support for using encrypted connections.
ComputerManagementDsc v9.1.0-preview1 - PSResourceRepository now supports property Reasons.
Releases

Sampler v0.116.3 - Cleaned up templates and fixed bugs in the resolve dependency script. Since 0.116.1 there is also a new task Set_PSModulePath.
DscResource.Base v1.1.0 - Handles Reasons re-using each modules own class, e.g. SqlReasons or CMReasons, that is specified as the type on the property Reasons
Sampler.AzureDevOpsTasks v0.1.2 - PAT is now correctly used in the task Create_PR_From_SourceBranch.

Preview

Sampler.DscPipeline v0.2.0-preview0012
Next community call is on the 17th of May. Suggestions for talks are welcomed, we have Call for speakers open.